A money-making idea can become a catalyst for anyone at any point of time. The idea could come from your educational background, hobby, or any alternate skill you might have learnt earlier. But, it is very important to understand if a particular money-making idea is ideal for yourself.
Being a student, it is normal that you don't want to ask for extra money from your parents. In such a scenrio, it is better to use money making opportunities from the skills in your studies.
The article discusses about few of the skill-based money-making opportunities. These ideas are applicable for housewives as well. All you need to do is to Explore more of tje the money making ideas detailed here. After COVID-19 spread, people have smartly moved to find online money making opportunities or passive incime sources.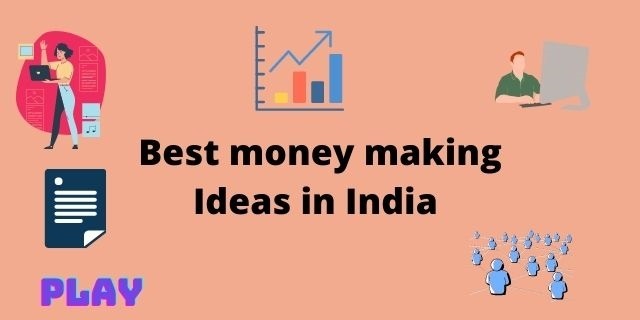 With no traveling and no traveling cost one can start earning just by sitting at home safely. There are no fixed working hours for people earning online and thus you can easily carry on with your other hosuehold responsiblities.
The money-making ideas can be started as part-time work to start with and once it grows ,it can be done full time. It is dependent on your skills and efforts to see if you want to do it full time. You would see how your skill is improving day-by-day when you work professionlly on ways tomake money online.
Best money making Ideas in India
There are multiple ways to earn money online and offline. Offline ways includes going out for work and finding a job based on your knowledge or skill. But,online ways are bery easy to find as it does not require you to travel anywhere to earn money.
Online ways have reduced the time spent on finding online money making ideas dependent on your skill. Thishas reduced the steps: going for an interview, waiting for the result outside the office, and going for the next round of the selection process, etc.
Anyone can make money online just by sitting at home. Post COVID-19 spread across India; people want to make money by staying at home safely. Internet is playing a importnat role in finding jobs, internships, and other money-making ideas. All you need is to find work on the internet with proper keywords. After finding the work, you would need a laptop/mobile and a stable internet connection.
You can find work on many job portals such as Naukri.com, times job, monster world, shine.com, and others. Many social media handles posts job openings and other work from home requirements. All you need to do is to spend some time to find work for yourself not scroll the news feed on your social media accounts. Follow job pages and join groups related to work from home.
How can I make money fast at home?
Below are the Money-making ideas in India you can choose based on your skill
Content Writing
Can you write good relevant articles or content on any topic of your liking or expertise such as food, education, current affairs, beauty and care, health, or any other? If the answer is Yes! Then content righting is a good option for you. Content writing is in great demand these days due to the growing digital content consumption and production.
Many bloggers, firms, and new start-up want content writers to write for their social media handles. When you start working as a content writer, you read more content related to that particular topic. This adds to your knowledge as well. Also, one becomes more confident when one reads for his/her knowledge. While writing, you may add your personal experience professionally.
That's how one can show creativity in their writing. The job of content writing is doable from home. All you need is a laptop and a stable internet connection. The clients would give you topics to write about. However, you can work at your convenience.
As the job is to write content,the earning will depend on the number of words and your writing skill.t is a good way to earn while enhancing your writing skill. To find a job as a content writer, apply through job portals or on social media posts by recruiters.
Teaching
Teaching is a great profession. If you have the knowledge on a particular or multiple subjects . You can share it with others and then be a teacher. Earn just by sharing your knowledge! A ll you have to do is to show your teaching and knowledge on the particular topic or subject.. Both Offline and online options are available and can be chosen at your convenience.
Language Teaching: If you an expert on a foreign language such as German, Spanish, French, or any other language. Then, it is best to start teaching the language. Language teachers are in great demand always.
The best way is to become a Subject matter expert and start working with any online education portal or start your own youtube channel. content marketing company .There are many such firms who hire teachers on contract as per their demand.
Many companies hire subject matter experts who have expertise in a particular subject. These subject matter experts are supposed to answers the questions asked by students.
Graphic designing
If you know to use editing software such as adobe illustrator and photoshop, then graphic designing is a good option to start. You will need to design logos, temples, cards, posters, t-shirt designs, and others as per the client's demand.
As a graphic designer, you are expected to show your creativity by using the different tools of the software. Adding different combinations of colors to different designs and graphics and make them attractive. These days many graphic designers are working on Canva extensively. This platform is easy to work on.
This money making idea is a god freelancing option people with designing skills. You can do this work part-time or full time. It depends on you. Graphic designers are paid handsomely. They are applauded for their creativity. Graphic designers visualize and create the visual content in their way. They make the websites attractive with their visual content.
Social Media Management
In this age of internet,people spend lot of their time on social media platforms such as Facebook, Instagram, Twitter, and others. Therefore, more people are needed to handle the social media pages of the companies and start-ups,celebs or anyone who feels they need a social media manager.
Social media management is also a money-making idea which anyone can go for. All you need to spend time on handling the social media pages of various organizations. Recruiters hire interns as well. They do post job openings and internships available on different job portals and other internship websites. As a social media manager, one also needs to monitor the traffic on the pages.
He/She job role requires to increase the number of followers by inviting people. The aim is to reach the mass audience by promoting the organization/company/start-up,promoting different products or services of your client.
The profile demands monitoring online interactions and working with other people who work for the social media pages. Social media management works with content writers, graphic designers, and digital marketers.
If you are active on social media and has good interaction skills, then go for it! It is wise to be a social media manager and create, schedule, analyze, and promote the content of the companies.
Translation
If you can translate one language's content to another language, then being a translator is also a good money making idea. For further assistance, you can take the help of online available translators. We have many regional languages in India and international languages. English is a global language.
If you can translate your regional language or Hindi to English, then being a translator is a good money-making idea. You can also choose it to be another way. For instance, translate English language content to another language that you know.
If you know any foreign language such as German, Spanish, French, or any other thenYou can also translate any foreign language to English or vice-versa. You can earn from this money-making idea just by sitting at home! The earning depends on the language and also on the content. New vocabulary and glossaries would be added to your knowledge while earning with this skill.
Passive income Ideas in India
Video Editing
These days making videos for different social media platforms like facebook,instagram,youtube is on a rising trend. You can find many YouTube channels related to education, food, clothing hacks, personal growth, travel, and many others. Many vloggers hire video editors to edit their videos. Besides, many bloggers also hire them for their blogs.
Video editing is one of the best money-making ideas these days. The upwards trends of video content is leading to huge demand for video editing people . As a video editor, you would be compiling and editing videos for YouTube channel, presentation, and education-related videos.
You can work as a freelance video editor. This job can be done part-time or full-time. One can make money just by sitting at home. The working hours are flexible and can be decided by the video editor. Since the earnings depend on video editing skills, one can do it in a few minutes too. The audience prefers to watch short videos instead of longer ones. However, the work has to be done as the client's demand.
Proofreading
If you are good at finding grammatical errors,spelling mistakes or difficult sentences on a piece of writing, then you can earn a good amount of money with this skill. While proofreading, you are expected to review the final content of any writing to deliver consistency, spelling free content, formatting, and grammatical errors. One has to be good at writing and understanding the English language if one is a proofreader in English language .
Before proofreading, any document or any final draft of a piece of writing is already been edited. But, as a proofreader, you are more focused on ensuring that the content makes sense. You have to identify the errors which is having some errors not detected earlier during the first editing.
The grammatical errors could be incorrect words, improper punctuation, incorrect spelling, and typo error. Also,if you find any errors in the document and it is not making sense as a whole, then you would recommend editing the complete document as a whole.
You can work as a freelancer and the earnings depend on the number of words and hours.
Web Designing
In this internet age, websites are attracting huge traffic. If you can work on the design,appearance and layout of the websites then you can start doing web designing.
In case of appearance, all you have to do is to work on the fonts, colors, and images displayed on the website of the company or organization. When you work on the layout of the website, you structured and categorized the content.
Data Analysis
Data analysis has multiple factors. It requires discovering useful information from the data given to the data analyst to conclude. This conclusion plays very important role in decision-making in a business. The data analysis process includes data collection, processing, cleaning, and modeling.
The facts and figures need to be analyzed carefully. So, if you find yourself to be good with numbers,analysis and have some skills of data analysis tools then data analyst is the best job for you. Data analyst are handsomely paid. Some people do enroll for a course on data science to understand the subject.
Data analysts earn well. You can apply on job portables to find the job. Besides, you can start with an internship as well.
Photography
If you are good at capturing the moments from camera ,then photography is not a bad idea. Famous Indian personalities like Boman Irani,Sandeep Maheshwari,Arshad warsi were photographers in their careers before gaining name and fame in their respective fields. You need to choose the type of images you would want to capture.
You can be a wedding photographer, nature, wildlife, fashion, sports, heritage, and others. Online and offline both options are available to photographers for the earnings. You can start as a freelancer. The most important thing is to have a decent camera.
You can sell the photos to online websites and earn well. Everyone wants to capture beautiful moments of their life such as wedding day, anniversary, birthday, and other professional events. They do hire photographers and pay them well.
Final Thoughts
If you are good at any one of the above skill, then you can make money online with any one of them. However, the amount of money depends on your skills and your efforts in that field. The above online money making ideas are in demand in India. One can work both online nad offline to make money from the above options. Some people work part-time as a freelancer with their full-time job. For making money online, all you have to do is get a laptop and a decent stable internet connection.