10 ways to make money online for females in 2023
Feminism has taken a new meaning in the 21st century. It was in the past that women were expected to complete the daily chores and manage domestic works while the husband went earned the bread.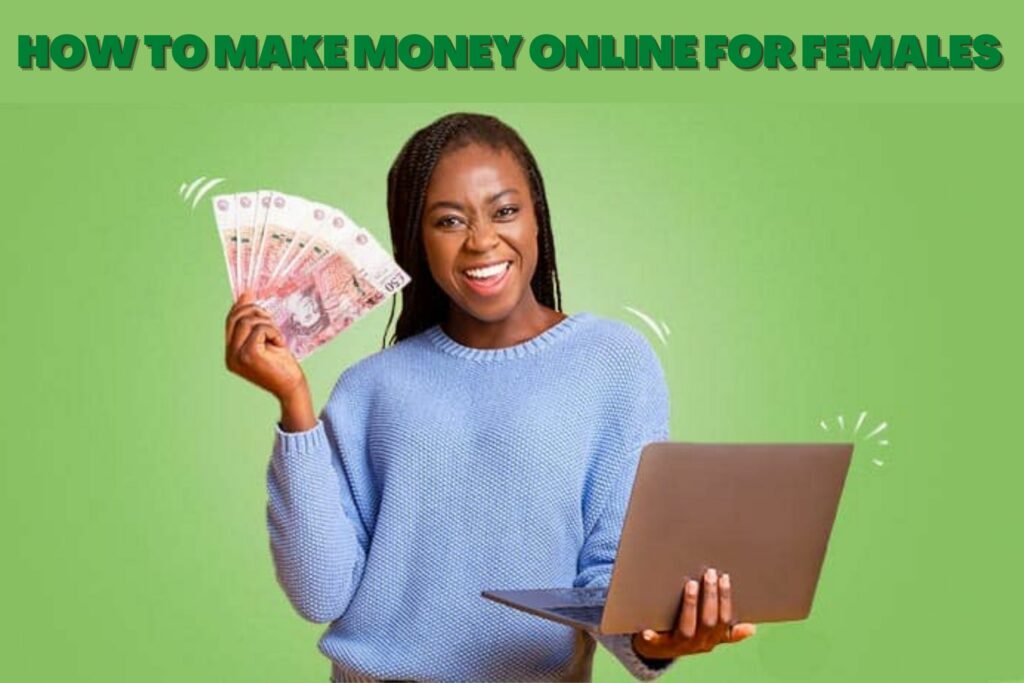 Best ways to make money online for female:
In 21st centurey , this image was heavily challenged. And we now see an explosion of women in the workforce, more options of jobs for females sitting at home. Some have even managed to secure the highest executive posts within some of the biggest companies.
However, this change doesn't mean that all women must now go out and look for a job. The change relied on the fact that women must have the choice to decide for themselves what they choose to do. While there are many who want to make a living for themselves. Some housewives are just keen on making some money and doing work that is outside and different from the usual home chores.
If you are one of those and are looking for how to earn money doing jobs for housewives sitting at home in India, this is a list of the top trending list of jobs for housewives sitting at home to earn money.
Build and sell handmade products
The beauty of handmade products is understood well by every Indian. Whenever one takes a trip to Rajasthan or other famous cultural places in India, they are sure to bring a memento from that place that is always made by a local artisan.
earn money from home for housewives
If you have skillsets ,you can do wonders .For painters, you can paint on canvases, or even on small posters which can be used as wall paintings. However, for those who do not have a particular art background, it is never too late to explore your options. My aunt found her calling in sewing designer clothes at the age of 50 ! So, you can always start to look for options about what you can do.
The final step in this activity for housewives to earn money is selling these products. Thanks to the internet, this is easier than ever. Sites like Amazon and Etsy allow anyone to put up their products for sale. All you have to do is popularise your art through social media posts and you're ready to launch your own career. This is one of the easiest options among the jobs for housewives sitting at home.
Start a YouTube channel
This is one of the best ways of jobs for housewives sitting at home along with getting fame and recognition. YouTube as a platform is massive and every day hundreds of hours of content are being viewed.
YouTube channels are similar to blogging for the fact that you can upload any type of content. If you want to give online dance tutorials or just teach some fun and easy cooking recipes, YouTube is the platform for you!
Digital Marketing
Digital marketing is another great works for females to earn money. The reason is that as more and more consumers are heading to internet-based services and increasingly using the internet, brands have understood this shift and have begun broadcasting their advertisements online. Digital marketing is just the management of these advertisements while reporting back its success rates.
And the best part about digital marketing is that this work for housewives to earn money doesn't require a four-year college degree anymore. There are many online courses, like Google Digital Unlocked, that help you learn the basics of this work and enable you to earn money from home.
Sell home-cooked food
Who doesn't like 'Ghar ka khana'. I still remember when I was in my college hostel, I would count days to get back home and have my mother's deliciously cooked rajma chawal.
And there are countless other people like me who would desperately wait for home-cooked food. As they are away from their homes. This leads to a big market that you as a housewife can tap into. Cooking always remains on the top of the heart and considered the best option among jobs for housewives sitting at home.
Work for housewife to earn money
The best way to begin is by approaching a society that hosts PG accommodation, college students. Start by delivering them hot home-cooked food and thereafter expand into other areas.
Take tuitions
Mothers are always one of the best and most thorough teachers. They not only teach children about life but also spend countless hours with their children helping them with their homework.
Thus, as a housewife, you begin to revise all the subject matter you studied in school and therefore you can think of expanding these services to help other children who face problems with their school tasks.
And these days online tuition market is booming. On average, a tutor receives anywhere from 700-1500 INR every day per child.
So imagine, even if you start teaching just 5 children, that would earn anywhere from 4000-8000 rupees every day. Therefore, home tuitions have always been one of the best options among jobs for housewives sitting at home.
One can even set up their own online tutoring classes. With the abundance of platforms like Zoom, Google Meet, Microsoft Teams, the ease of conducting online tutoring classes has seen a ready acceptance by all age groups.
Become a travel agent
Booking travel arrangements is always a nightmare for families. But this creates a huge market for travel agents and planners. This work is one of the most underrated ways to earn money from home by doing jobs for housewives sitting at home because this task is easier than it seems.
With the online revolution, making travel arrangements now happen with just a click of a button. However, families don't want to do this extra work as they are already busy planning other parts of the vacation.
So they generally hand it over to travel agents. This option of jobs for housewives sitting at home earning money requires minimal effort and gives out maximum profits.
Start a blog
Blogging is rising to become a very popular platform to earn online money from home for housewives. The benefit of this type of work for housewives to earn money is that you can write about almost anything you have knowledge about. In Blogging, you are the boss and you make all the decisions.
When I recommend blogging as a great option of jobs for housewives sitting at home to earn money, I always tell them that they should invest some time in learning about Search Engine Optimisation or SEO. In brief, SEO is the way that content on different websites is modified according to the search queries by the different users of the internet.
So for example, if you want to write about 'How to make hair color dye at home', you must first look at the different keywords. People use while searching for this topic or any other similar topic about hair colors. The more you understand this technology tool, the better chances you have of ranking higher in the search results of Google.
Start a home-based parlor
The makeup and beauty market for women is huge. Every year millions of women almost have a weekly habit to walk into a parlor to have their touch-ups done. But what if I can tell you that there is a way to earn money from home for housewives.
The answer is to start a home-based parlor. Your first customers will most likely be the friends and family that live around you. However, as and when they begin to broadcast the tremendous service you provide, your home-based parlor is surely likely to take off and reach big heights.
Online surveys
Though this simple work for housewives to earn money and not a job opportunity like the other activities mentioned in this article. This is still a good way of doing jobs for housewives sitting at home.
The process is simple. You have toregister on to different websites that offer basic tasks like filling online surveys, watching entertaining videos, or signing up for newsletters. Though the payout for these individual tasks is very nominal, because they are so easy and take very little time. You can easily do them by sitting at your chair in your home . Every hour, you can log on to these websites to complete these surveys.
The most trusted websites that offer jobs for housewives sitting at home like online surveys and help earn money from home for housewives are:
SwagBucks
Survey Junkie
ZenSurveys
Lifestyle consultant
Housewives and mothers generally know more about how to manage life than anyone. Since they are responsible for bringing up their children, they have an innate understanding of the different choices. One needs to make in their lifestyle to reek the most benefits.
What if I tell you that you can earn lots of money just by using this natural gift you have. Recently, there has been a boom in the lifestyle consultant market as more and more people are looking for ways to live a healthier and more satisfying life.

The ever growing world of online money making has opened up some unusual but real opportunities to make money from the comfort of your home. This is specially very useful opportunity and time for those women who think they have skills but they need to take care of their kids .Hence, these online money making options or opportunities might help them improve their financial status but also A positive idea about themselves.
Here's your guide to 10 lesser-known but real ways of making online money. Earning money online has never been as easy as now.
The growing world of online has opened up some unusual but real opportunities to make money from the comfort of your home. And worry not you don't need special skills or qualification before you say get set go.
Sell photos online
Do you have loads of beatiful pictures and albums full of pictures ? Are you the one who constanly clicks pictures whenever something interesting catches your eye? If the answer is yes then reach out to stock photography websites which are always looking for photos for several subjects.
You can upload your images to popular photography sites like Shutterstock, Photoshelter, and Getty Images. The best part is you get paid every time someone buys a photograph clicked by you.
Participate in online surveys
You can earn money by taking online surveys on websites like Survey Junkie, Swagbucks, and InboxDollar. Such sites don't pay much but you can still earn $0.50 to $3 per survey.
Proofread and test websites
Don't worry as you don't need to possess technical know-how or skills to earn money as you test websites. You just get paid for spending time on a website and helping the developers with your user experience.
You have to provide them feedback on the look and feel of the website and its functionality. With web testing, you can earn between $5 and $60 per hour. For web testing, you can try UserTesting, Enroll, TestingTime to earn money.
Installing new apps on your phone
Start earning money by installing some of these apps:
ScreenLift: Make this Android app as your first screen to earn points or "Lifts."
Fronto: This is another lock screen app which lets you exchange points for Walmart, Amazon, PayPal gift cards, and Google Play etc.
Slidejoy: Use your lock screen to earn cash-like rewards.
Sweatcoin: Get rewarded for just walking around.
Ibotta: A cashback app which pays you $20 just for using it.
Playing games
Join a focus group
Earn by becoming a part of a focus group or testing products with USer Interviews, FocusGroup.com or Respondent.io.
Visit PTC sites
You could start earning money by simply clicking on advertisements by visiting websites such as ClixSense.com, BuxP and NeoBux. These are paid-to-click (PTC) sites and require a user to register. Such sites also reward you monetarily for providing them with references.
Promoting sponsored social shares
You too can benefit from the rise of social media platforms where organisations across businesses pay you for posting about them and their products. These sponsored posts include posting pictures and talking about company products on social media platforms like Facebook, Instagram, and Twitter.
Some sites will pay you money for playing games. These include Second Life, Swagbucks, Lucktastic, and Mistplay. Some of these websites pay you in the form of gift cards and some through PayPal.
Selling old gift cards
Bring those old gift cards out of the cupboard. Keep some but those which you don't want to sell them online through CardCash and receive cashback.
Final Thought

With the digital revolution, there are now great possibilities for females to make great money while sitting at home. Even new mothers, who have to be there for their sons and daughters, can now look at the different job opportunities. Technology has changed the ways of jobs for housewives sitting at home.