Top 5 BABY SITTING FIRMS IN USA
The other name of babysitter can be caregiver who works permanently or temporarily as nannies. A babysitter needs to take care of another parent child. If you are a college or graduate student and want to pay your own college fees, then this can be the bes5t job for you. As a babysitter, you need to keep the play area of a child neat and clean and help with homework and tutoring as needed. Cares for infants, including feeding, diapering, and dressing. Meets the physical, social, and emotional needs of children in their care. Now, you might be confused about which platform you should register yourself as a nanny. So, we have listed some of the best websites and apps for a babysitter.
1. Urban Sitter
This is a platform from where parents can book, pay, search or recommend baby sitters and nannies. If you want to look after a child and work as a nanny, then you can register yourself in this platform. You can enrol yourself here through this link- https://www.urbansitter.com/.
This platform is a solution for all childcare and household need. You can find a full-time, part-time, nanny share or occasional trusted caregiver through schools and parenting groups. Not only this platform offers you the opportunity to serve the little ones but also to work for the senior citizens and pets. If you are a college student, you can do a part-time job of a nanny and can handle your own expenses.
Here, you can engage yourself in a number of jobs such as: Backup child care & occasional babysitters, Tutors and homework help, Pet sitters, senior care & housekeeping. At first, you can look for a job here or can also post your past work experiences. Then, you can browse your profile to find a match. Get in contact with your client and after mutual understanding and contracts, you can work for them.
2. Sitter Pro
Sitter Pro is a platform where clients can hire nannies on a temporary basis. The users can connect with their family and friends to see which sitters they hire. The most exciting feature of this app is that you can create your go-to favourite list of your most favourite baby sitters. You can easily register yourself by using the free version that is available on their platform. In addition to the free version, you can also get a subscription of $10 dollars per month.
Your money will be directly deposited in your bank account. After the client sends you a chat, you can negotiate the timing, days and fees. There are a couple of jobs available on this platform beyond babysitting- new born care specialists, night nannies, domestic staffing and many more. They have partners with local care agencies. Here is the link to register yourself on this platform- https://sitter.app.
3. Care.com
Are you in search of one of the best websites and apps that connect parents with caregivers? Then you can go to https://www.care.com/ . This easy-to-use platform helps you find a babysitter, tutor or nanny. It has one of the best reviews and ratings. You can set up your profile on this platform for free. In addition, the caregivers complete a CareCheck background check, including a criminal record research, ensuring the safety of children.
This site also connects with pet car, home care, tutors, senior care, etc. You can also get the subscription for $39.99 in 1 month. This platform has also received a Betty Award in 2013. You can work as a babysitter in https://www.care.com/ and earn money to run your own expenses. You will be amazed to know that approximately 26 million people in 20 countries use this respective site. You access yourself to free membership and work here as a part time job.
4. Helpr
If you want urgent nanny for your baby, you can try this website. You must have a past experience to get job as soon as possible. Having a past experience of this kind of jobs enhances your profile. You will be paid for the number of hours that you have put in the work.
So, there are no monthly fees like any permanent job. Clients can also book their respective helpers for free trials. Most of the people who are engaged in this job are graduate students, former nannies and kindergarten teachers.
Helpr provides you cancellation protection, competitive pay and sick days, we're here for you. This app based childcare service gives you an opportunity to register yourself as a helper. You can manage your studies, household chores and then work as a nanny by using this platform. Now, you can say goodbye to countless interviews and work in www.helpr-app.com. It is mandatory that all helpers must have at least an experience of 2 years to work on this website.
5. Sittercity
Sittercity is one of the most used apps where a babysitter can find the most suitable work for him/her. Here, a babysitter's profile includes personal details, location, experience, skills and personal feedback. Before you start working for your client, the app checks the databases and the background of the babysitter which gives security to the parents and their babies.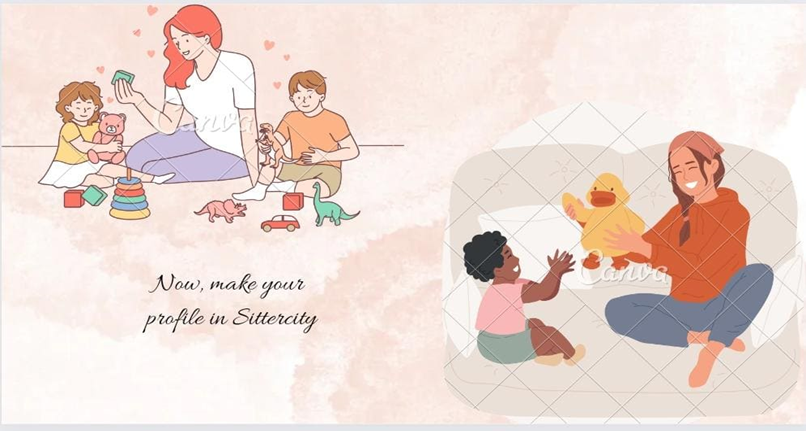 You can make your profile and post your job requirements accordingly. You can access yourself to a part time job, overnight job, and after school job or a regular nanny. You are open to many options and this is one of the best platforms for graduate students who want to be self-dependent and pay their all expenses without being depended on their family. Make https://www.sittercity.com/ your BFF and you can work as a babysitter temporarily and as a nanny permanently after school hour, etc.
Over 400,000 connectives are made every year. Personally, I would recommend you this platform as no one in America ever again has the excuse of 'I can't find a babysitter'. This platform offers you the best options with all safety and security.
best babysitting companies in USA Conclusion:
Here, we have listed some of the best babysitting firms in USA where you can easily hire a nanny or register yourself as a nanny. Before working or hiring a nanny, make sure that you go through this article and then take your decision wisely. I hope this article was useful for you.