Art is not always just a decoration or a collection piece, but has a more great purpose than that.It serves as a medium for artist to spread his message to society. With the passage of time, there is evolution of the art, but the purpose of the art has always remained the same.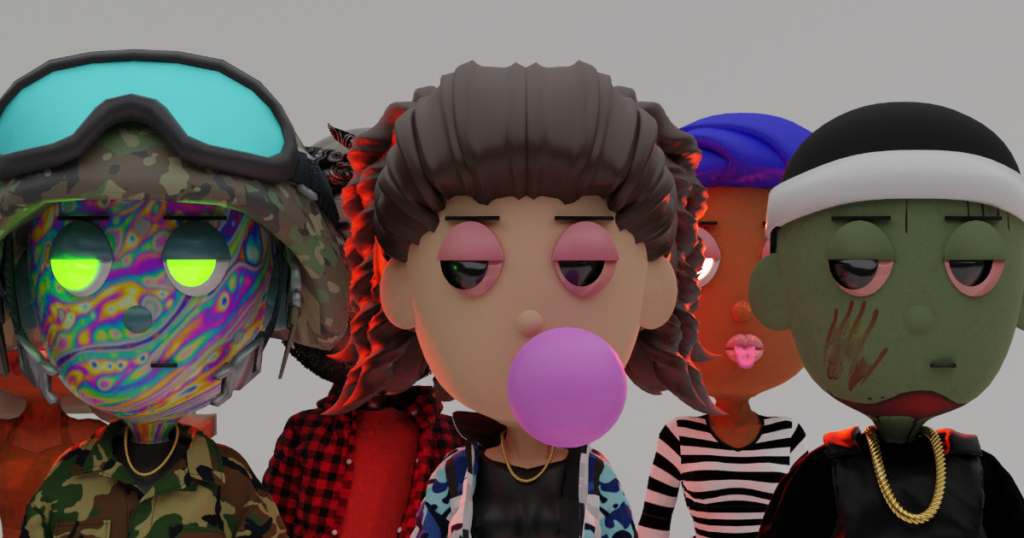 Today anyone can create art and spread their message with the help of the available tools in the market today. And artist Evijan Watson used the digital tools and digital medium and utilized it to progress forward towatrds NFTs and help the society.
Who is the developer of Ethereum Homies?
Evijan Watson is the artist who leaded the project of Ethereum Homies. Ethereum Homies is a project which is dedicated to promote diversity within the NFT space. He worked as a creative director, videographer, and editor in Los Angeles collaborating with the top talent in the music scene for four years and then after 2020, Evijanswitched lanes.
Sudden surge in NFTs popularity made him to develop interests in the visual arts. He then used his creative abilities towards 3D animation. Evijan further polished his craft and utilized his knowledge, he build the foundations of his ideas and pushed the music scene into the metaverse.
As he moved towards his vision, he started to gain accessibility to international music events and networking, which he would utilize for his goal. Then after successfully getting a hold of his craft, he developed Ethereum Homies.
What is Ethereum Homies?
The NFT industry has seen many countless projects in the recent years. The Ethereum Homies is one of the another amazing project that has seen that has found its way in the etherum network. With the team of devoted developers evijan Watson led to the success of this project.
Ethereum Homies is a NFT (non fundible tokens) collection. It is an NFT project that aims to attract investors with its unique digital art pieces that are totally different from what the market has seen till today.
It is a collection of digital artwork stored on the bloclchain. It is also known as Homies Gs and is made specially for those who want to channel their individuality in metaverse. Ethereum Homies promotes culture and progress external resources and helps in learning opportunities pertaining to Web3 for communities worldwide that represent all walks of life. It alsocreatesgroundbreaking art.
The NFTs also known as HomieGs are hand-designed 3D characters rigged and ready for the metaverse. Their appearancestakesare heavily influenced from the music, gaming, design, streetwear, digital art, lifestyle, fashion, and NFT culture in designs. Each Homies Gs havea story of their own behind the hand-crafted designs that inspired the 10k drop.
Ethereum has shared a portion of the HomieGs on their Instagram and Twitter already, which gives prospective holders a look into what they're missing out on. Also each character or we can say homie is designed to be a relatable avatar of its holder and thus it represents individuality of holder.
The founders had made sure that the tokens offered make every user welcomed and make a community of likeminded individuals. So basically HomieGs aims to bring different people from different backgrounds and allow them to invest and see a reflection of them in metaverse.
Benefits offered to holders of ethereum homies:
Evijan explains that anyone can connect with the homie and there is a Homie out there for everyone."Theholders of homiesGs will be able to interact with one another . The holders also have the access to airdrops and allocation for future pre-sale drops. The metaverse is currently in development within Sandbox but the community has slowly been growing with future updates on their channels on discord, twitch and tiktok.
So its clear that this project offers various benefits to their holders and thus early investors who can get hold of their homie as early as possible will make themselves in for a massive treat.
Expansion and future development of the project
Once the development within Sandbox is complete and estate grows, the Ethereum Homies team will then further decide to expand and will choose which advanced platforms they want to grow their ecosystem. The team has already begun to move towards expansion and they are developing avatars on Unreal Engine to help with the compatibility with future ecosystems.
With the expansion in their universe, the founders have developed a P2E game. Which means Ethereum Homies have now enabled its holders to earn from playing player vs. player and participate in arcade type gaming activities.
Ethereum Homies team have also announced that the changes and innovations will be continued which will give holders new experiences within the metaverse and also unique and exciting opportunities will be offered to the holders to gain supplementary crypto assets.