RED BULL MAKE MONEY STRATEGY
"Red Bull gives you wiiings" is one of the most famous sayings that we have heard. Red Bull is one of the most famous brands that have established a well-known reputation across the globe. This functional beverage gives you wiiings whenever you need them. This cold can is widely loved by most of the people and is one of the most famous energy drinks.
Red Bull also makes its cans in a sustainable manner which saves the environment. The Company launched its energy drink in 1987 and till date, they have sold out 100 million cans of Red Bull worldwide. Besides, energy drinks, Red Bull also sells organic sodas with four interesting flavors. This was named as Organics by Red Bull which was launched in 2018. Along with this, it also released a cola, named as Red Bull Simply Cola.
What does Red Bull do?:
This Austrian Company has sold millions of cans worldwide and has earned billions of dollars. The Company reinvests its money into its various marketing campaign and deals with the world's biggest sports and motorsports brands.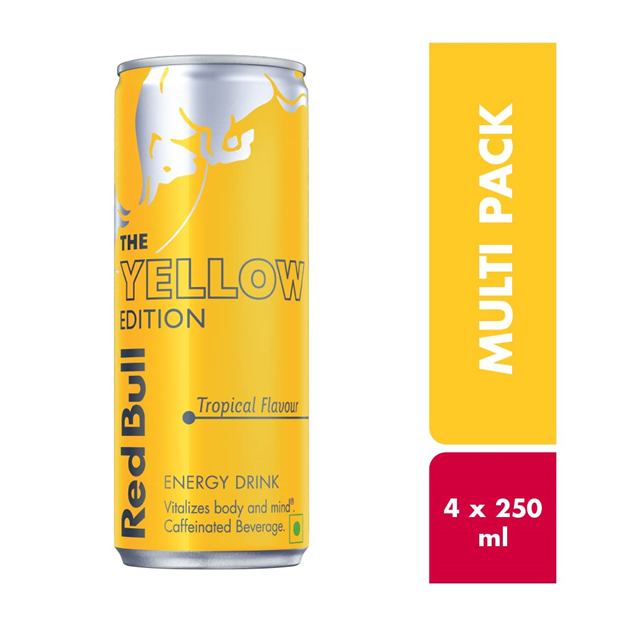 Red Bull also sponsors the world's top talents like F1 Racing, Motor FX, skydiving and many other extreme sports to be counted.
Red Bull makes most of its revenue from its energy drink which is mostly consumed by enjoyed by today's youth. People of 18-34 years old are found to be the target audience of the Company. Red Bull is also known for sponsoring many sports programs globally like rock climbing, Formula 1, cliff diving, etc.
How does Red Bull work?
Do you think that Red Bull makes money only from its energy drinks? If yes, then, you are slightly wrong here. Red Bull does lots of sponsorships and sponsors sports car and sports teams.
Let me give you a brief idea about the journey of Red Bull. Red Bull didn't emerge in one day but took many days to build this million dollar company. Dietrich Mateschitz, the founder of Red Bull, once tried a drink called Krating Daeng, he was inspirerd by the drink and brought it to its home.
He translated the meaning of Krating Daeng which means Red Gaur. Dietrich Mateschitz thought to keep the name of the can as Red Bull as Gaur is a type of huge bison which basically means Red Bull. Dietrich Mateschitz was very much sure about the product and wanted to launch it in a new brand format.
As there was no similar market at that time, Dietrich decided to create one by investing half a million himself as no other investors were interested to invest in it because they didn't see any future of the product outside Asia. Besides this, the boss of Krating Daeng also invested half a million in the company.
Red Bull is well-aware of its targeted audience and knows the demand of its audience. It makes sugar free drinks, cola drinks and energy drinks. Red Bull focuses on 4 things of its can- collect, recycle, produce and transport.
Basically, Red Bull focuses to collect its can and then recycles it, thus, promoting sustainability. Red Bull not only earns from selling its energy drinks but also does sponsorship and many more things than only selling energy drinks.
How does Red Bull makes money?
Dietrich Mateschitz did a detailed research about the demand of its consumers and invented a formula and flavor for the European market and finally launched its product in Austria in late 1980s. Red Bull sold almost 1 million cans in its first year and attracted the people of Germany towards its drink.
Finally, Red Bull indulged himself into the US Market and started selling a million cans per day. Red Bull makes money by selling its signature drink and also produces sugar-free drinks and cola drinks.
Red Bull has a fantastic outsourcing approach and as a company, it has crafted a well-designed plan for it. Red Bull main target is the youth and has successfully made a caffeine-containing drink.
Brand Revenue:
In 2021, Red Bull has estimated brand revenue of $15.99 billion euros. In 2020, Red Bull has sold 7.9 billion cans and from 2014-2016, this brand has sold 17.63 billion cans. The Red Bull also promotes its products via the Red Bull Music Academy
Marketing:
Red Bull is the market leader in its category. You will be amazed to know that Red Bull sold 7.5 million cans in 2019 which helped them to create revenue of 6bn US Dollars.
To earn such high revenue, Red Bull has spent almost a third on marketing. In 2012, the revenue growth of the company, however, slowed down despite the huge marketing budget.
Red Bull purchased the New York team for approximately 25 million USD in 2006. But now, according to Forbes, the team is now worth of 290 million USD. Undoubtedly, Red Bull leaves no chance to double its investment in the upcoming future.
Even today, Red Bull earns most of its income from its beverage sales, representing approximately 97% of the total earnings. Besides this, Red Bull mentions its other activities as its ongoing brand investment. Red Bull also spend $50 million to make Felix space jump convert into a reality.
Sponsorship:
Red Bull can charge higher price than its competitors and this adds a great advantage to its profit making company. Red Bull keeps a good profit margin between its product cost and wholesale price. Red Bull produces one can for $0.9 dollars and its wholesale price is $1.87 dollars which is 20 times more than its cost production.
The Company used the most effective tool that is- Student brand managers to promote its cans in clubs, university campuses, etc. Any party that was thrown by the people would have Red Bull cans in every guest's hands.
Not only this but also Volkswagen Bettles promoted big size Red Bull cans at beaches, colleges, gyms, work places with free samples. This made people aware of the brand and its cans.
Red Bull cans are now available mostly at every bars and every bar tender is likely to mix Red Bull with vodka or Jager and this had become one of the most popular drinks in bars. Red Bull owns the Red Bull Air Races and teams in F1, NASCAR and many others. Through these teams, it does its sponsorship and attracts the customers towards it.
One interesting thing about Red Bull is that they do not copy others stories, instead, they produce their own stories and content within their own media house. Isn't it interesting?
Red Bull continuously engages its customers through its sponsorship and ownership of sports team, through which it has a good demand on its customers. Red Bull sponsors many sporting events and have the best marketing skills.
Reed Bull makes more money through its sales and marketing. Red Bull sells approximately 7 million cans annually and earns revenue of $6 billion in its sales. Red Bull has increased 10% to $971 million last year as revenue increased 8.6%.
Red Bull Competitors:
Being a global brand and a highly competitive brand, Red Bull faces tough competition from some well-renowned and famous brands. Brands like PepsiCo, Nestle, Tropicana, Coco Cola and many other brands give tough competition to Red Bull.
How Does Red Bull Makes Money Conclusion:
Red Bull has a market share of 40% in its energy drinks. Red Bull is based on consumer-based model and the company invests more in maintaining the Red Bull brand's image. The company invests more of its money to sponsor itself on the front page of any cover. Red Bull always aims at promoting its brand on a global level.
Red Bull has joined hands in sponsoring many athletics and sports events. Mostly, Red Bull is consumed in Austria, Thailand and many other countries. This energy drink is mostly consumed by college students, travellers or is served in parties and events.