Ways to Make Passive income With Photoshop
So you have got Photoshop skills. Now what?
You must be knowing that it is a marketable skill. In fact, the leading US employment site Glassdoor named it one of the top skills for entry-level jobs in 2017.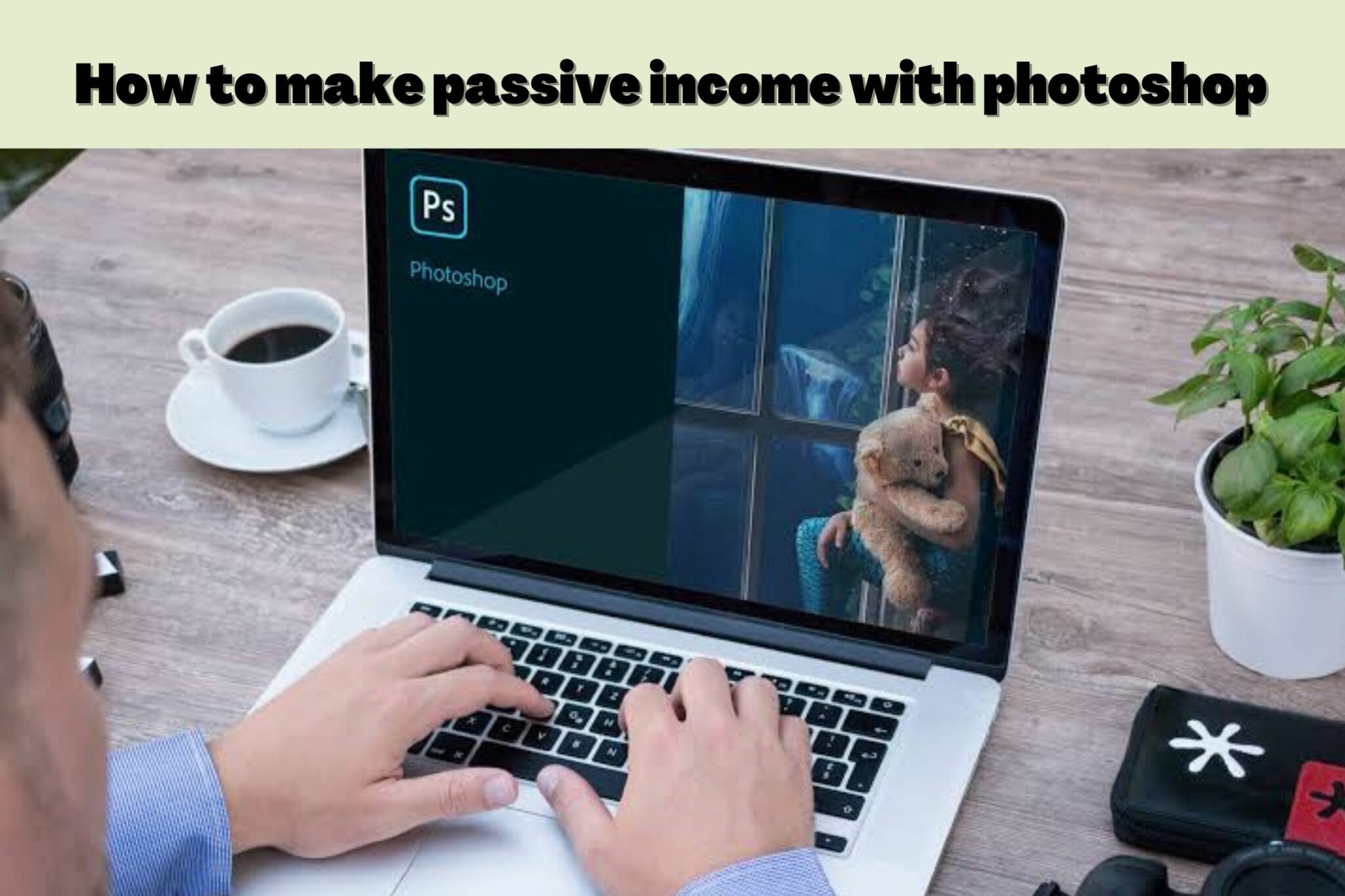 But what if you could be making money with Photoshop every month, without putting in the regular work in the form of job .
It should sound too good to be true, Is not it?
But it's not. It's called passive income.
And people with Photoshop skills have great opportunity to get their hands on it. Before we get into passive income for photoshop, let's first get into what it is.
What is passive income:
Passive income is when your earnings are not directly related to actions you perform. You set it up once, and money flows in without having to do anything.
Active income: when you get paid to complete a certain task. It's a immediate task that needs you to be actively involved in producing the output that the customer has purchased.

Example: image or video editing
Passive income: when your clients pay you for a product that does not require your active involvement.
Example: your clients buy your photo editing presets, that are available 24/7 online, with an automated buying process
Now that you know that passive income is a great way to earn money while creating a product only once, here are 10 ways to earn passive income by selling your Photoshop art:
Create Photoshop tutorials/courses
When you're a master of a skill, the best option to provide a value whch people will pay for is to pass that skill on. Photoshop works on the same principle.You can teach others by recording your tutorials or courses and uploading them to existing online markets.
For example, SkillShare and Udemy are great places to start.
If you have a fan following audience base and brand, consider selling your courses on your own platform, directly to your audience.
Potential earnings: $200-3,000 /month
The SkillShare website states that new teachers earn on average $200 in their first months, with top performing teachers making up to $3,000.
Create fonts and sell them online
Another great way to generate passive income is to create and sell your own fonts.
Websites to sell fonts:
Myfonts.com (50% commission)
Creative Market (30% commission)
Fontshop (50% commission)
Sellfy ($29/month + 2% transaction fee)
Very few sources disclose the amount they've made by creating and selling fonts. The majority of sources say that font selling can make money, though unless you sell a font to a major company, it's very likely you won't be making great amounts. However, it is possible to make a living.
Sell your Photoshop photo presets and LUTs
Whenyou are good at art of color grading and you have got your tried and true presets and LUTs, you've essentially got a new byproduct which can add value to other people's' lives.
Sell your presets online to help amateur photographers attain the same effects that your professional eye has created.
Potential earnings: up to $100,000 /year
Photoshop presets are in demand.There are many stories of people earning over $100,000 per year by working from home in Photoshop. But this depends on the activity of your community, the attractiveness of your images, and how they are generally marketed.
Create and sell stock images
If you have a large number of images that are kept in a hard drive or store online, why not put them to work and offer them up as stock images?
Though these days stock photography sites, like Shutterstock ,Pixabay ,Pexels,500px have developed higher standards and don't just take anything, rejecting about as many images as they accept.
Pro tip: As high volume of stock photos are being uploaded, it's advised to keep uploading regularly to ensure that your percentage of the market doesn't decrease with time.
Potential earnings: up to $500 /month
Photographer James Wheeler earns approx. $500 per month with 350 stock photos (out of 750 he submitted).
Though he sells a few on 500px at $5-$50 per piece, the majority of income comes from microstock sites, where the pricing is set at $0.25-$5.00 per image. Some examples of microstock sites include ShutterStock, Getty Images, and more.
Though not enough to make a living, it certainly has the potential to be a lucrative additional income stream to support your lifestyle and diversify your income.
Create and sell graphics
Photoshop can be used to many kinds of graphics, not only photographs.
A great way to set up an additional stream of passive income is to sell Photoshop art – create graphics that are ready-made and sold online to anyone who may need visual elements.
Graphics can range widely:
Icons
Decorative images
Stock illustrations
Desktop/mobile wallpapers
Textures, shapes, stamps
Potential earnings: $4000- 5000 USD
Meanwhile the creative collective "Offset" offers a variety of stamps, textures, shapes, image masks, retro diagrams that buyers can use to enhance their digital images. In this article they describe how they market their products and get the word out.
Create and sell website themes
Thousands of websites are created every single day, So it is reasonable to assume that website design is also in demand.
With a growing amount of non-technical or design oriented individuals trying their hands at creating their own website, an entirely new industry came to be – the industry of website themes.
Website themes allow you to create the design for a website, and use that theme over and over again.
You'll be able to create the website layout in Photoshop, however to create a usable theme, you'll need to turn the design into code. If you're not skilled at coding, consider hiring a freelancer for the job.
You can sell them at a variety of locations:
Themeforest (for WordPress themes) – 12.5%-55% commission
Creative Market (Magento and other platform themes) – 30% commission
Sellfy (for any platform themes) – $29 /month + 2% transaction fee
Potential earnings: varied
As with any digital goods sales, the results are varied and depend on a wide variety of factors.
The top selling Theme forest template Avada is making upwards of $20 million, having sold over 440,000 copies of the theme for $60 per piece. That is though an exception.
In fact, there are over 8,000 WordPress themes on the platform, only 19 crossed the $1M threshold in 2016, and the average theme that sells over 100 licenses has taken 2.5 years to do it. Though you may not be making millions (at first, at least), a solid earning is certainly in reach.
Sell designs on Print on Demand sites
If printmaking is your thing, you might consider selling your products on print on demand (POD) sites. The concept is simple:
You upload images of your designs to either a print on demand site or your own website.
The image is displayed as for selling product of your choice that the POD platform offers (common products include posters, mugs, pillows, etc.). Visitors purchase the design on a product that they would like.

The POD provider prints and ships the product to the customer. There are different print on demand sites that you can make use of, many of which are very similar.
Some popular sites include:
Zazzle
Society6
RedBubble
Inktale

Potential earnings:
On POD sites, you'll be earning royalties on sold items. Most sites let you set your own profit margin that you'd like to receive, on top of the POD provider's base price.
So your profit margin depends on you.
Create and sell document templates
When in the business of designing with Photoshop, there is no upper limit as to what you can do.
So why not expand to creating different document templates? People often look to ready-made templates to kick their performance up a notch and look a tad more professional, put together, or thoughtful.
Here are some ideas of document templates that you can sell online to create passive income:
Resume/CV templates
Ebook templates
Email templates
Magazine layouts
Wedding, baby shower, bridal shower invitations

Potential earnings: $3000- 5,000
As with any digital product, your potential earnings have much to do with how many copies of products you sell, and what the product's priced at.
Sales can be increases in a variety of ways – by offering more products to be sold, as well as ramping up the marketing and visibility of existing products. Take a look at our ebook for some actionable tactics to use.
Printable planners, journals, workbooks
Creating printable planners and journals, in a plethora of different niches, is a way to provide great value with a product that can be infinitely scaled.
If you have any other niche you're interested in, you can to put together and sell a journal or planner for your specific topic.
Say, for example, you're passionate about organizing your workday and developing a workload to create sustainable income – a challenge that many creators may have. You can create a printable workbook that sets goals, challenges, etc.
Etsy is one marketplace where you can go to get inspired as to the different kinds of workbooks, planners and journals are available, and at what price points.
Potential earnings: up to $2,000 /month
Selling printables is a great way to generate recurring income. Especially as they take on a life of their own. You can read how artist Michelle Rohr went from $3 /month to $4,000 per month, entirely with passive income and selling online printable worksheets.
Pro tip: Use the Sellfy "Upsell" feature to encourage buyers to supplement their workbooks and planers with add-ons.
Take Snipped, for example, who sell printable planner bundles. They supplement their planner offerings with different accessories to upsell, like stickers and note cards.
Create and sell mockup images
Mockups are the potential holy grail of digital products.
There are so many cases when they're in demand. From online sellers using print on demand, to branding specialists who need to demonstrate their new-found brands to clients, to software products that have to be demonstrated on screens.
In fact, the majority of Graphic River's best-selling items in 2018 are mockups.
Potential earnings: $500 – $30,000 /month
The guys at the Creative Bloq have quoted that most designers make between $500 – $30,000 per month selling mockup images.
Why use Sellfy to sell your Photoshop products?
Sellfy is the platform that will make it easiest for you for selling digital products . Created for digital product creators (here's a list of 101 digital product ideas you can sell), you're not required to create and maintain a website (though you can, if you want), you can focus on selling your goods.
As a Photoshop expert , you can set up your online store in 5 minutes, set a price for your products and easily create promotion strategies with Sellfy's useful tools like Upselling, Email marketing, etc.
If you're ready to set up your passive income streams, sign up for Sellfy's 14 day free trial.