Car wrapping is a popular way to add a personal touch to a vehicle or advertise a business. Starting a car wrapping business can be a profitable venture, but it requires careful planning and execution. In this guide, we'll walk you through the key steps to start a carwrapping business, including researching the market, creating a business plan, obtaining the necessary equipment, hiring employees, developing marketing strategies, and providing exceptional customer service.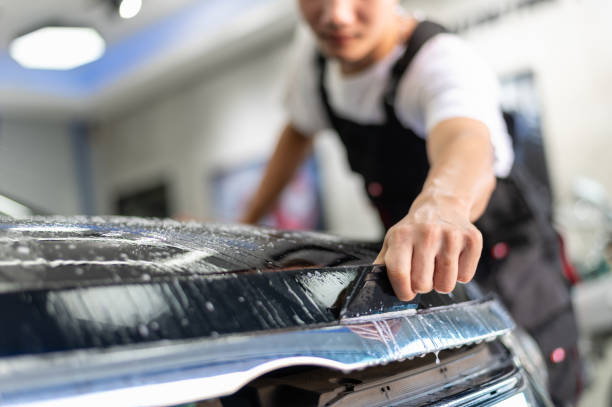 Research the Market
Before starting a carwrapping business, it's essential to conduct market research to understand your target audience and competition. Identify the demand for carwrapping in your area, study the pricing strategies of your competitors, and assess the types of services they offer.
Create a Business Plan
A solid business plan is crucial to the success of any venture. It should outline your goals, financial projections, marketing strategies, and operational procedures. The plan should also include a detailed analysis of your competitors and your unique selling proposition.
Obtain the Necessary Equipment for Car Wrapping
Investing in quality equipment is crucial to ensure the success of your carwrapping business. You'll need a vinyl cutter, heat gun, air compressor, laminator, and a printer. Choose equipment that's reliable, efficient, and easy to use.
Hire Employees
As your business grows, you'll need to hire employees to assist with wrapping and installation. Look for individuals with experience in the industry and excellent attention to detail. Provide proper training to ensure they adhere to your standards of quality and customer service.
Develop Marketing Strategies
Marketing is critical to attract new customers and generate business. Develop a marketing plan that includes a website, social media presence, business cards, brochures, and advertisements. Attend trade shows, conferences, and networking events to meet potential clients and industry experts.
Provide Exceptional Customer Service
The success of your car wrapping business depends on the quality of your work and the level of customer service you provide. Ensure your customers are satisfied by communicating regularly, providing accurate estimates, and delivering quality work on time.
In conclusion, starting a car wrapping business requires careful planning and execution. By following the steps outlined in this guide, you can start a successful car wrapping business that meets the needs of your customers and grows your bottom line. Remember to conduct thorough market research, create a solid business plan, invest in quality equipment, hire experienced employees, develop marketing strategies, and provide exceptional customer service.