A guide to send bitcoins through coinzoom
A cryptocurrency exchange called CoinZoom offers over 40 different cryptocurrencies along with a variety of financial goods. CoinZoom can be a suitable choice for those seeking a number of products and features in a single platform.
Todd Crosland established CoinZoom in 2018, and it has its main office in Salt Lake City, Utah. Since its inception, the business has developed as a cryptocurrency exchange and increased the range of products it offers.
According to the customer's home nation, CoinZoom now provides access to various financial solutions for consumers in over 192 countries.
CoinZoom has introduced its own token, the Zoom Token, in addition to its product offerings. Users who own the Zoom Token can benefit from extra perks including fee reductions and entry into VIP programmes.The variety of items that CoinZoom offers sets it apart from its rivals.
One of these items is a Visa debit card that enables you to use your cryptocurrency at millions of retailers, as well as the ability to send and receive fiat or cryptocurrency transactions from friends and family.
Steps to send bitcoins using coinzoom on laptop/desktop
We can also send crypto and bitcoins to other using coinzoom, how ? Although there is a catch , you cannot undo your actions once you have sent it .
1. Select "Portfolio" from the tabs.
2. Select "Send" next to the appropriate crypto.
3. Enter the name of a whitelist entry you have stored.
4. Click Add Address if the address you want hasn't already been saved.
5. A window will appear once you click the green "White List" button.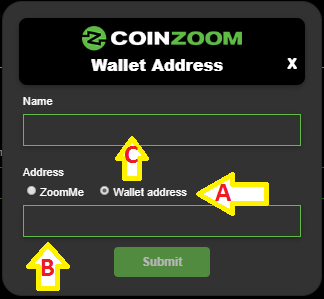 A. Select "Wallet Address" or "ZoomMe"
B. Paste the wallet address into the area below
C. Give the wallet address a distinctive name
D. Press the green "Submit" button
6. Fill up the Amount field with the amount of digital money you want to transfer.
7. Determine how you'll pay your transaction fee.
8. Check all fields twice.
9 After everything has been checked, press the "Submit" buttons .
Steps to send bitcoins using coinzoom onMobile:
Tap the menu drop down icon in the upper left-hand corner
Tap "Portfolio"
Tap the Crypto you want to send
Click "Send" button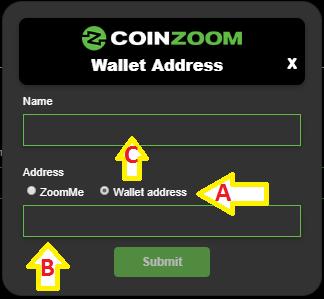 Read the warning box. Make sure you only send the selected crypto to that crypto's wallet. If you send to a different crypto wallet type, the amount sent could be lost.
Type the name of one of your saved whitelist entries

If the address you want hasn't already been saved click Add Address

Either paste in the destination wallet address, tap on one of your saved whitelist entries or click "Scan with QR code"
Enter the Amount to send
Choose how you would like to pay your fee for this transaction
Once everything is verified click the "Send" button
If two-factor authentication (2FA) is enabled (recommended) enter in the relevant code and submit
Advantages of Coinzoom
CoinZoom can be a terrific choice for cryptocurrency fans looking for a platform that offers a wide variety of financial goods.
Customers of CoinZoom can execute trades using either the iOS or Android mobile apps or a desktop computer. The user experience on its desktop and mobile platforms is comparably decent. The platform's transaction history, order book, and real-time pricing information are all accessible to customers.
Additionally, market, limit, and stop orders can be placed on CoinZoom by users interested in a variety of order types .Though it could be confusing if you're unfamiliar with trading and investing in cryptocurrencies, CoinZoom's trading platform is generally easy to use.
Transactional Fees of Coinzoom:
The maker/taker fee scheme is used by CoinZoom. One should budget between 0.18% and 0.36 per executed transaction for maker orders. The range of taker fees is 0.22 to 0.44%. These costs are somewhat equivalent to those on a number of big exchanges, even though they may be more than what you'd see with some exchanges.We have to make our account first , wait we will explain it to you.
The email address you first choose to create your CoinZoom account cannot be modified, so keep that in mind before you start the account setup procedure. When opening an account, it's also a good idea to have your phone and a valid photo ID on hand.
You must first give CoinZoom your email address, a password, and a few pieces of basic personal information. You must then click the link that CoinZoom delivers to your email account to confirm that you are the owner of the address. You must now complete your user profile by providing some extra personal information.
Additionally, CoinZoom adheres to know-your-client (KYC) guidelines to assist guard against fraud on its platform. For the process to begin, you must first confirm your identity.